Sunday 6/4 went Umeå Guide Association showing the main hotel.
Major hotel is Umeå's most historic hotel and opened its doors for the first time in 1895. In February, before reopening the hotel and it had been refurbished with a sailor theme, which is excellently suited when the hotel included the MMO, and Umeå have a proud tradition skeppsbyggarstad. Our host at the hotel talked about the Gotthard Zetterberg, who ran the hotel from the start. Obviously, we looked into the hotel restaurant, which has been named Gotthard Pub. We were told that on Sundays has a fixed, affordable menu with different themes.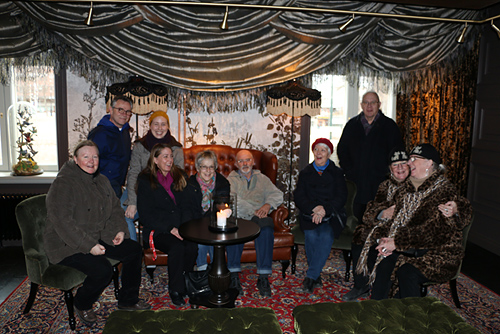 The hotel now has eighty rooms, from small compact room – "sailor bunks" to the hotel's main rooms – the suite "Freedom".The hotel applies as the other major hotels, dynamic prices, in other words, the price can go up and down depending on supply and demand. The suite is always a fixed price of 6000 SEK.
The hotel has a remarkable interior and the thoughtful design is attributed to the design Stylt Trampoli. During playback, it was both praise and criticism of the group and we found that dining room chairs among others are dressed in velvet – "everything comes back."
The group also received some information about the new hotel U & Me and cultural fabric, which is under construction. The only disappointment was that the group did not see the suite as well as the very special staircase on the third floor, when you shut off due to a smaller labor.
The display ended with coffee and bun in the Culture Café.
Short facts:
Umeå's oldest hotel
82 rooms
Included in the chain Worldhotels